TOUR pocket coil spring mattress + storage beds + grey velvet duvet filling
As low as €791.55 Regular Price €1,682.95
Firmness

Medium firmness

Comfort

High comfort

Ventilation

High ventilation

Assembly included

Fibre

Winter

Pk washable

Mattress Height

27,50 cm
The solution to sleep comfortably and warmly all year round.
Different weights for different seasons
A duvet can be used all year round, but depending on the outside temperature, a heavier or lighter filling should be chosen. As a general rule, for spring and summer a fibre duvet of 125-150 gr/m² is ideal, for autumn-winter a fibre duvet of 300 gr/m², and for winter a duvet of 400 gr/m² or more.
Maximum breathability without risk of allergies
Made with top quality fibre, totally breathable and hypoallergenic.
Easy to wash
Machine washable. It is recommended to put a few tennis balls in the drum with the duvet, which will prevent the filling from caking.
Technology
Core technology: Pocket-coil innerspring unit, independent from each other and packed in resistant and durable fabric.

Padding technology: Viscofoam® is responsible for reducing pressure points and tensions in the neck, head and cervical spine.

ECOLOFIL® FEATHER TOUCH are siliconised polyester fibres that are very comfortable and feel similar to feather.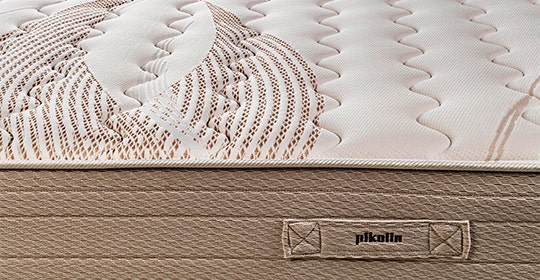 Functionalities
Thanks to the technology of the Adapt-Tech pocket coil springs, this mattress offers three different areas in which the core adapts point by point to the morphology of each sleeper.

ROOM TEMPERATURE: the temperature where we sleep is key to choosing a duvet which is either down or fibre.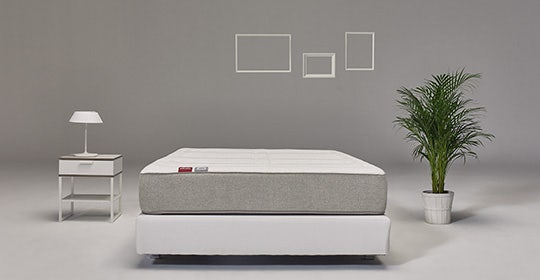 Composition
Layers: stretch fabric, Viscofoam, athermic fibre, cosy polyether, core of Adapt-Tech pocket coil springs, cosy polyether, athermic fibre, Viscofoam and stretch fabric
Fibra hueca siliconada 100% poliéster
Useful height (basin): 27 cm
Height to the ground: 32 cm
Breathable lid: height of 5 cm
Basin panels: thickness of 22 mm
Lid technology: solid wood handle with brand identification in the same colour as the lid, maximum durability breathable lid with B.A.S. (Base Air System) technology, a mattress guide to hold the mattress in place and an easy front opening system
We found other products you might like!