Upholstered trundle bed with two youth mattresses - DIVANLIN+APPLE
This pack includes an upholstered trundle bed set, made up of two white upholstered platforms and two Confortcel foam core youth mattresses, the Apple mattress and the Apple Colchoneta mattress. This bed is a good option for youth bedrooms since, thanks to its folding legs, the lower upholstered platform base can be easily stored without taking up space. Due to its height, the Apple mattress must be placed on the upper bed, and the Apple Colchoneta mattress on the lower bed, for the set to be used without problems.
Sorry, this product is discontinued
This core is made of high resilience cellular material, HR foam, which efficiently holds body weight and maintains its rest properties throughout the entire useful life of the mattress.
High adaptability
Thanks to the foaming material of the Confortcel® core, it supports and respects the curvature of the body, favouring a deep rest.
Air circulation
The pores of the foam with which this core is manufactured provide a renewed and healthy rest environment thanks to the passage of air.
Back health
This Confortcel® foaming cellular material offers a firmness that adapts to your back, guaranteeing its correct position and favouring subsequent musculoskeletal recovery.
High durability
Thanks to the high resilience of the Confortcel® technology, it guarantees an optimal performance during the useful life of the mattress.
Functionalities
Great durability of the upholstered trundle bed designed for daily use, ideal for youth bedrooms.

The lower bed includes wheels that facilitate its movement when folded.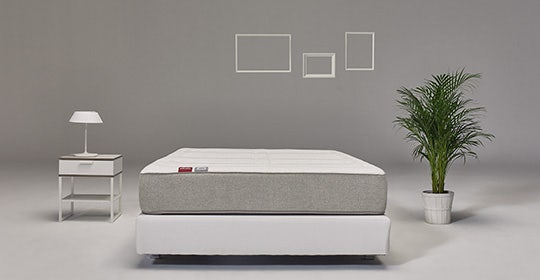 Composition
Tejido exterior los colchones: POLIESTER:100 %
Capas de los colchones: Tejido Stretch, Viscofoam, Fibra atérmica, Núcleo Confortcel, Fibra atérmica, Viscofoam, Tejido Stretch
Cama nido formada por: un colchón Apple CP17622, un colchón Apple Colchoneta CP17689, dos divanlines DL12080, un kit canguro inferior KT47013 y un kit canguro superior KT09880