Colchón de muelles ensacados Adapt-Tech Zone con tecnología SMART-PIK - e-calm
El colchón E-calm está compuesto por el núcleo de muelles ensacados Adapt-Tech Zone, su capa de acolchado de Progression Visco y tecnología SMART-PIK que te ayuda a dormir mejor gracias a la combinación de Colchón Smart y APP, en la que se registran los datos del sueño. El núcleo de muelles ensacados Adapt-Tech Zone se adaptan punto por punto a la morfología de cada durmiente y favorece la independencia de lechos. La tecnología Zone le otorga 5 zonas diferenciadas al colchón diseñadas con el objetivo de dar una respuesta personalizada a los movimientos corporales durante el descanso. Su acolchado de Progression Visco es la combinación de Supersoft®, material celular de alta densidad y baja firmeza que se adapta al cuerpo, y ViscoFoam®, viscoelástica de alta densidad con efecto memoria que acoge a la persona en función de la presión y su huella térmica para adaptarse a la morfología de cada persona. Todos los colchones de Pikolin cuentan con la tecnología de higiene total Triple Barrera que protege y previene contra el desarrollo de las principales fuentes bacterianas de un colchón: ácaros, bacterias y hongos.
Sorry, this product is discontinued
Guarantee

Leader Brand

Firmness

Medium firmness

Comfort

High comfort

Ventilation

High ventilation

Triple hygienic protection

Mattress withdrawal

Bagged spring
Who is this Pikolin Adapt Tech® pocket spring mattress good for?
If you want to enjoy the pocket spring technology, this mattress is for you. Pocket spring mattresses adapt 100% to your body shape. They also ensure that your partner's movements do not interfere with your sleep.
Why buy this Pikolin Adapt Tech® pocket spring core mattress?
Adapt Tech® pocket spring mattresses have all the technologies you need to sleep well every night. The pocket springs adapt to the sleep of every person, offering great adaptability and ventilation during sleep.
Thanks to their careful design, these mattresses help your muscles to relax fully every night, a perfect benefit to sleep in harmony every night. The shock absorber on these mattresses provides them with a perfect stability, whereas the Adapt Tech® pocket spring system ensures that the mattress adapts to your most comfortable position every night to obtain a fully restful sleep.
Technology
Adapt Tech® Zone: The Adapt Tech® Zone core with which this mattress is equipped is a block of pocket springs with bed independence that adapts point by point to the morphology of each sleeper. It has been designed to give a personalised response to body movements during sleep.

Progression Visco®: If you are looking for a mattress that provides you with a complete feeling of relaxation, this model is for you. Thanks to the Progression Visco® technology, your rest will be truly pleasant.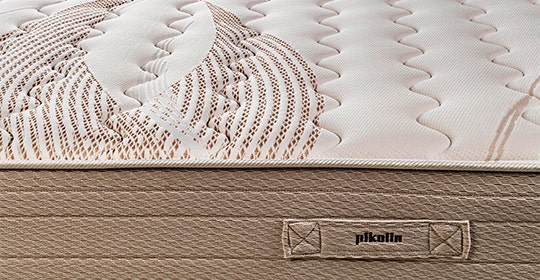 Composition
Tejido exterior: POLIESTER:100 %
Capas: Tejido stretch, Progression Visco, Amortiguador HR, Núcleo Adapt-Tech Zone, amortiguador HR, Progression Visco, Tejido stretch