Colchón inteligente de muelles independientes con capa de visco - MILENIUM
El colchón de muelles independientes y capa visco Milenium te ofrece un alto confort y transpirabilidad para dormir de forma adecuada cada noche. Se trata de un modelo de altas prestaciones que incorpora alguno de los mejores avances en tecnologías del descanso, gracias a los cuales podrás relajarte por completo antes de dormir disfrutando de un confort progresivo y suave. Descubre también los beneficios del descanso inteligente: gracias a SmartPik de Pikolin puedes ver en el teléfono móvil los datos más destacados sobre tu sueño y consejos para mejorarlo cada noche. ¡Sigue las indicaciones de tu Smart Coach para levantarte descansado cada mañana!
Sorry, this product is discontinued
Guarantee

Leader Brand

Firmness

Medium firmness

Comfort

High comfort

Ventilation

High ventilation

Triple hygienic protection

Mattress withdrawal

Bagged spring
Who is this Pikolin Adapt Tech® pocket spring mattress good for?
If you want to enjoy the pocket spring technology, this mattress is for you. Pocket spring mattresses adapt 100% to your body shape. They also ensure that your partner's movements do not interfere with your sleep.
Why buy this Pikolin Adapt Tech® pocket spring core mattress?
Adapt Tech® pocket spring mattresses have all the technologies you need to sleep well every night. The pocket springs adapt to the sleep of every person, offering great adaptability and ventilation during sleep.
Thanks to their careful design, these mattresses help your muscles to relax fully every night, a perfect benefit to sleep in harmony every night. The shock absorber on these mattresses provides them with a perfect stability, whereas the Adapt Tech® pocket spring system ensures that the mattress adapts to your most comfortable position every night to obtain a fully restful sleep.
Technology
Adapt Tech® Zone: The Adapt Tech® Zone core with which this mattress is equipped is a block of pocket springs with bed independence that adapts point by point to the morphology of each sleeper. It has been designed to give a personalised response to body movements during sleep.

Progression Fiber®: The Progression Fiber® layer in its padding reduces the pressure exerted by the mattress on the body during sleep.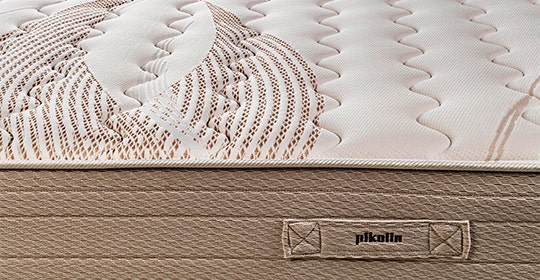 Composition
Tejido exterior: POLIESTER:100 %
Capas: Tejido Stretch, Progressión Fiber, Bio Visco Foam, amortiguador de poliéter reforzado de alta densidad, sistema de muelles Adapt tech Zone, amortiguador de poliéter reforzado, tejido Stretch
We found other products you might like!
Price: 80x190 (20 more measures)

The Milenium mattress is formed by the Adapt-Tech Zone pocket coil spring core and its layers of Progression Fibre+ padding and BioVisco Foam. The Adapt-Tech Zone pocket spring core is the pocket coil...