Pocket coil spring mattress + white storage base + pillows
As low as €738.68 Regular Price €1,641.50
Adapt-Tech: Pocket-coil innerspring unit, independent from each other and packed in resistant and durable fabric.
Adaptability
The shock absorber on these mattresses provides them with a perfect stability, whereas the Adapt Tech® pocket coil spring system ensures that the mattress adapts to your most comfortable position every night to obtain a fully restorative rest.
Stability
No transmission of movements from one part of the bed to the other. If you share a rest space, you will not have to worry about the other person's movements as this core of springs adapts point by point to each morphology.
Air circulation
The fabric into which the springs are packed allows air circulation and the passage of air in the core of this mattress.
Technology
Core technology: Pocket-coil innerspring unit, independent from each other and packed in resistant and durable fabric.

Padding technology: Viscofoam® is responsible for reducing pressure points and tensions in the neck, head and cervical spine.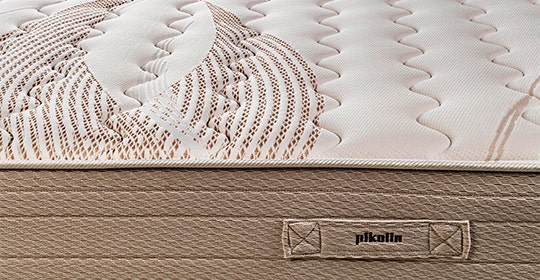 Functionalities
Thanks to its viscoelastic foam composition, it provides greater comfort and softness. It receives a person depending on their pressure and thermal footprint. It also helps to reduce blood pressure and disperses the heat we generate when sleeping.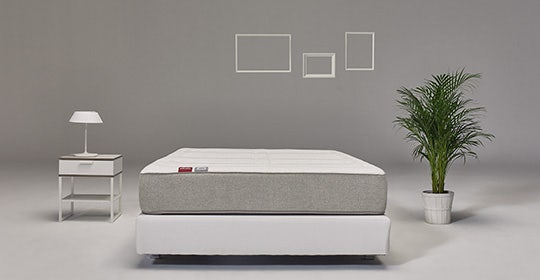 Composition
Mattress layers: Stretch fabric, ViscoFoam, Athermic Fibre, Cosy Polyether, core of Adapt-Tech pocket coil springs, cosy polyether, athermic fibre, ViscoFoam, Stretch Fabric
Outer fabric of storage base: 100% polyester and 3D fabric for better breathability of the rest equipment
Ground clearance of the storage base: 32 cm
Breathable lid on storage base: 5 cm high
Lid technology: solid wood handle with brand identification in the same colour as the lid, maximum durability breathable lid with B.A.S. (Base Air System) technology, a mattress guide to hold the mattress in place and an easy front opening system
Outer cover of pillow: 100% polyester microfibre
Inner protective pillow cover: 100% polyester microfibre
Pillow core: 100% viscoelastic with gel, Memory gel.
We found other products you might like!