Almohada con núcleo 100% de visco para dormir boca arriba - VISCO CARBONO
La almohada Visco Carbono de Pikolin y su núcleo viscoelástico con partículas de carbono es perfecta para las personas que prefieren dormir boca arriba cada noche. ¿Eres uno de ellos? Entonces recuerda que a la hora de comprar una almohada debes optar por un modelo de grosor y firmeza media. El modelo Visco Carbono es ideal para conseguir la máxima alineación de las cervicales y la dorsal de la columna, manteniendo a su vez la posición correcta de la cabeza y el cuello. De esta forma se pueden evitar determinadas molestias al despertar. Incluso aunque cambies de postura en algún momento de la noche. Gracias a su composición en doble funda (interior y exterior en 100% poliéster con tratamiento hipoalergénico) se mantendrá perfectamente protegida durante toda su vida útil. El mejor descanso está garantizado gracias al núcleo 100% Visco Carbono, un tipo de material viscoelástico que en su composición añade partículas de carbono. El principal beneficio de este material es que duermes sobre una almohada capaz de eliminar la carga electroestática que se acumula durante el día para conseguir una relajación completa. Con la almohada Visco Carbono tampoco tendrás que preocuparte de posibles malos olores porque el carbono elimina la humedad para generar un óptimo nivel de higiene.
Sorry, this product is discontinued
Guarantee

Leader Brand

Firmness

Comfort

Ventilation

Mattress withdrawal

Visco
Who are Pikolin pillows good for?
The secret formula to finding the perfect pillow for every type of person is in knowing the characteristics of each pillow and the peculiarities of your sleep. In this way, you can discover the best pillow for you if you really know how you sleep.
Why buy this Pikolin pillow?
Pillows are decisive when it comes to providing us with a healthy rest. The key is in finding the pillow that best adapts to how you sleep, as depending on your sleeping position, there will be a certain pillow or two that is best for you.
However, your sleeping position does not always have to be the decisive factor in your choice. You can also choose your pillow according to its type of material or any of its specific characteristics. At Pikolin we also think about the type of person you are when designing each pillow, which is why we offer pillows designed especially for pregnant women and other pillows that have been designed for children.
You deserve to sleep well, and the most important thing is that you find a pillow that provides you with a peaceful and restful sleep so that you wake up the next day with enough energy to do everything you have in mind.
Technology
Viscoelastic: With this viscoelastic foam core pillow, you will be able to relax peacefully every night.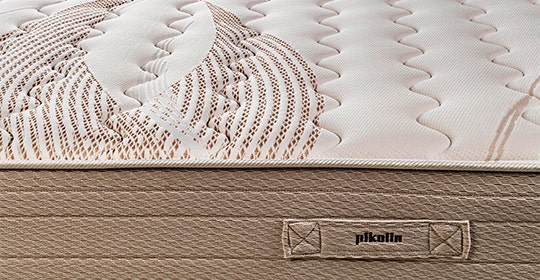 Composition
Tejido exterior: POLIESTER:100 %