Almohada de núcleo 100% visco para dormir boca arriba - MEMORY GEL 2015
La almohada viscoelástica Memory Gel es perfecta para minimizar la presión corporal y favorecer la circulación sanguínea y conseguir así un sueño reparador. ¿Eres de los que duermen boca arriba?, ¡buena elección! Es una de las posturas más recomendadas por los especialistas. Pero recuerda que deberías elegir una almohada de grosor y firmeza media para conseguir la máxima alineación de las cervicales y la dorsal de la columna. El modelo Memory Gel de Pikolin puede ser el candidato perfecto para ocupar un hueco en tu cama: se ocupa de mantener la posición correcta de la cabeza y el cuello, evitando así determinadas molestias al despertar. No te preocupes si cambias de posición en algún momento, su grado de adaptabilidad hará que prácticamente ni lo notes. Además, gracias a su composición en doble funda (interior y exterior en 100% poliéster con tratamiento hipoalergénico) se mantendrá perfectamente protegida durante toda su vida útil. De que puedas disfrutar cada noche del sueño que mereces también se ocupa su núcleo 100% viscoelástico con Memory Gel, que combina lo mejor del visco (confort, adaptabilidad, etc.) con las ventajas propias de las partículas de gel (dispersión del calor o alta densidad). No solo proporciona un descanso más fresco, también ayuda a suprimir los puntos de presión que genera el propio cuerpo durante el día. Con la almohada Memory gel tampoco tienes que preocuparte de hongos, ácaros, bacterias o del mal olor: además de ser totalmente hipoalergénica cuenta con el tratamiento anti-bacteriano permanente Sanitized Silver Freshness, que gracias a la acción de los iones de plata actúa eficazmente contra las principales causas de alergias y asma.
Sorry, this product is discontinued
Guarantee

Leader Brand

Firmness

High firmness

Comfort

Ventilation

Mattress withdrawal

Visco
Who are Pikolin pillows good for?
The secret formula to finding the perfect pillow for every type of person is in knowing the characteristics of each pillow and the peculiarities of your sleep. In this way, you can discover the best pillow for you if you really know how you sleep.
Why buy this Pikolin pillow?
Pillows are decisive when it comes to providing us with a healthy rest. The key is in finding the pillow that best adapts to how you sleep, as depending on your sleeping position, there will be a certain pillow or two that is best for you.
However, your sleeping position does not always have to be the decisive factor in your choice. You can also choose your pillow according to its type of material or any of its specific characteristics. At Pikolin we also think about the type of person you are when designing each pillow, which is why we offer pillows designed especially for pregnant women and other pillows that have been designed for children.
You deserve to sleep well, and the most important thing is that you find a pillow that provides you with a peaceful and restful sleep so that you wake up the next day with enough energy to do everything you have in mind.
Technology
Memory Gel: This pillow has the Memory Gel core, a combination of viscoelastic foam and gel, which minimises body pressure, favours blood circulation, controls body temperature and provides a high level of comfort.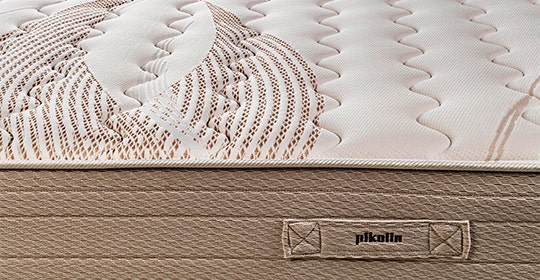 Composition
Tejido exterior: POLIESTER:100 %