Almohada de Viscofoam ideal para dormir de lado - VISCO TOP
El tratamiento higiénico Sanitized Silver Freshness de la almohada Visco Top te garantiza un descanso libre de ácaros y hongos. Además, es el modelo ideal para las personas que duermen de lado. Y es que se ajusta a la perfección a esta postura gracias a su altura y grado de firmeza, que ayudan a mantener el cuello y la cabeza en su posición correcta para evitar determinadas molestias al despertar. Gracias a su composición en doble funda (interior y exterior en tejido stretch 100% de poliéster) tu almohada se mantendrá perfectamente protegida durante toda su vida útil. El mejor descanso está garantizado gracias a su núcleo en 100% Viscofoam, una espuma de alta densidad y producción europea capaz de memorizar la forma de tu cuerpo. Al eliminar los puntos de presión y permitir una mejora de la circulación sanguínea te ayuda a evitar los cambios de posición favoreciendo un descanso más profundo. Con la almohada Visco Top tampoco tendrás que preocuparte de hongos, ácaros, bacterias o del mal olor: además de ser totalmente hipoalergénica cuenta con el tratamiento anti-bacteriano permanente Sanitized Silver Freshness, que gracias a la acción de los iones de plata actúa eficazmente contra las principales causas de las alergias y el asma.
Sorry, this product is discontinued
Guarantee

Leader Brand

Firmness

Comfort

Ventilation

Mattress withdrawal

false

Visco
Who are Pikolin pillows good for?
The secret formula to finding the perfect pillow for every type of person is in knowing the characteristics of each pillow and the peculiarities of your sleep. In this way, you can discover the best pillow for you if you really know how you sleep.
Why buy this Pikolin pillow?
Pillows are decisive when it comes to providing us with a healthy rest. The key is in finding the pillow that best adapts to how you sleep, as depending on your sleeping position, there will be a certain pillow or two that is best for you.
However, your sleeping position does not always have to be the decisive factor in your choice. You can also choose your pillow according to its type of material or any of its specific characteristics. At Pikolin we also think about the type of person you are when designing each pillow, which is why we offer pillows designed especially for pregnant women and other pillows that have been designed for children.
You deserve to sleep well, and the most important thing is that you find a pillow that provides you with a peaceful and restful sleep so that you wake up the next day with enough energy to do everything you have in mind.
Technology
100% Viscofoam: With this 100% Viscofoam core pillow, you will have a pillow that adapts fully to your sleep needs.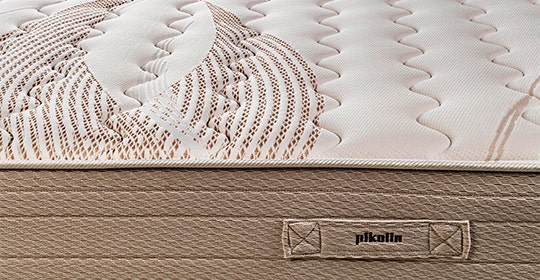 Composition
Tejido exterior: POLIESTER:100 %