MARISMA pocket coil spring mattress with viscoelastic + white storage base
As low as €801.36 Regular Price €1,891.00
Adapt-Tech: Pocket-coil innerspring unit, independent from each other and packed in resistant and durable fabric.
Adaptability
The shock absorber on these mattresses provides them with a perfect stability, whereas the Adapt Tech® pocket coil spring system ensures that the mattress adapts to your most comfortable position every night to obtain a fully restorative rest.
Stability
No transmission of movements from one part of the bed to the other. If you share a rest space, you will not have to worry about the other person's movements as this core of springs adapts point by point to each morphology.
Air circulation
The fabric into which the springs are packed allows air circulation and the passage of air in the core of this mattress.
Technology
Core technology: Pocket-coil innerspring unit, independent from each other and packed in resistant and durable fabric.

Padding tecnology: Progression Visco® offers progressive comfort and total adaptation supporting the body for a greater feeling of comfort. It will protect you from the heat effect of the viscoelastic material while regulating the temperature that the body experiences throughout the night.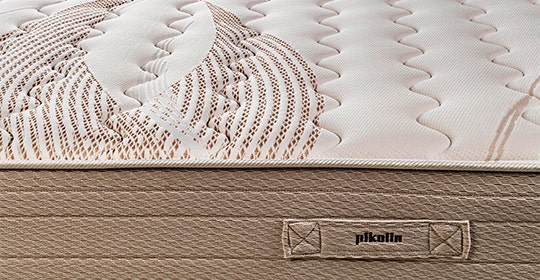 Functionalities
Thanks to the technology of the Adapt-Tech pocket coil springs, this mattress offers three different areas in which the core adapts point by point to the morphology of each sleeper.

It is made of a Seaqual outer fabric. This mattress has been manufactured from recycled materials from the ocean.

Its front opening system is easy, convenient and practical. You can access the inside of the basin from any angle. It stands out for its lack of noise when operating.

Enjoy an extra storage space without sacrificing the comfort and quality of your rest.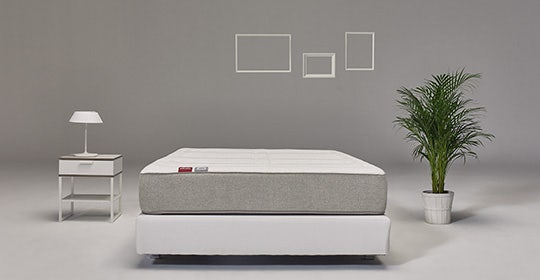 Composition
Layers: Seaqual® fabric, Progression Visco®, high density reinforced polyether, Adapt Tech®, breathable mesh fabric, Seaqual® fabric
Outer fabric: 100% polyester and 3D fabric to facilitate the breathability of the rest equipment
Useful height (basin): 27 cm
Height to the ground: 32 cm
Breathable lid: height of 5 cm
Basin panels: thickness of 22 mm
Lid technology: solid wood handle with brand identification in the same colour as the lid, maximum durability breathable lid with B.A.S. (Base Air System) technology, a mattress guide to hold the mattress in place and an easy front opening system
Reviews
We found other products you might like!
Price: (9 more measures)

✔ Visco and HR foam
✔ High firmness
✔ Adaptable comfort
✔ Soft reception, deep rest


Price: (63 more measures)

✔ Pocket coil springs
✔ High firmness
✔ Excellent comfort
✔ Restful night's sleep


Price: (3 more measures)

✔ Front opening
✔ Comfortable and practical
✔ Head and feet elevation
✔ Setup included


Price: (11 more measures)

✔ Viscoelastic and pocket coil springs
✔ Medium-high firmness
✔ Excellent comfort
✔ Soft reception, deep rest


Price: (18 more measures)

✔ Visco and pocket coil springs
✔ Medium firmness
✔ Extra-soft comfort
✔ Premium rest


Price: (9 more measures)

✔ Visco and HR foam
✔ Medium firmness
✔ Adaptable comfort
✔ Soft reception, deep rest


Price: (3 more measures)

✔ Front opening
✔ Comfortable and practical
✔ Head and feet elevation
✔ Setup included