Pack containing Normablock spring mattress and ice white folding storage base. - RACE+NATURBOX
✔ Enjoy your Pikolin bed with this pack
✔ Normablock spring and viscoelastic foam mattress
✔ Glacier-coloured folding storage base with front opening
✔ Setup and free collection of the old base included

Altura: +/-59,50 cm
Sizes and dimensions guide
Guide to heights and measurements
We explain how to correctly measure the height of our products and which accessories you should choose according to the size of your bed.



Pay in 3 or 4 or 6 or 10 or 12 free
with credit card
×
x
| | |
| --- | --- |
| First payment : | |
| Following mensualities : | |
| | |
| --- | --- |
| Total : | |
| Credit cost included : | |
Or

Enjoy your Pikolin bed with this mattress and ice white folding storage base pack. The pack is made up of the Race Normablock spring mattress and the ice white Naturbox folding storage base.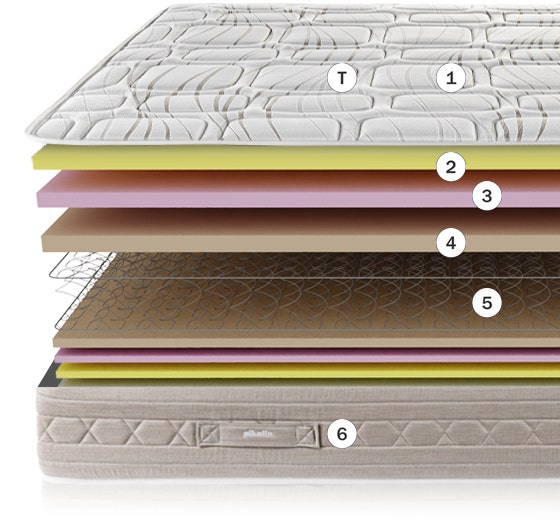 1. Stretch fabric: it has a great feel and weight that provides elasticity and breathability.
2. Viscofoam®: padding layer that supports a person depending on their pressure and thermal footprint, adapting to their body shape. It also reduces blood pressure and disperses the heat we generate while sleeping.
3. Athermic fibre layer that provides a high level of comfort.
4. Layer of reception polyether: shock absorber that provides comfortable stability during rest.
5. Normablock® Core: the most advanced continuous thread spring system on the market that offers the firmness and adaptation necessary for a complete rest.
6. It has four stitched-on handles, which prove useful when handling the mattress.
T. Triple Barrera®: complete and continuous hygienic protection. This barrier protects the user against the main causes of allergies, including mites, bacteria, and fungi, throughout the useful life of the mattress.
The most advanced system of Z-shaped continuous thread springs on the market that offers the necessary firmness and adaptation for a full rest.
Healthy back position
We add a greater number of springs to the lumbar area to favour the recovery of the spine and back muscles.
Durability
The continuous thread springs offer greater durability of the useful life of the mattress by not integrating knots into the springs, together with a heat treatment applied to the entire core.
Less body pressure
We maximise the number of springs to improve stability with a better distribution of pressure.
Internal air circulation
They do not contain any internal barrier with the aim of favouring air circulation and maintaining the hygiene and durability of the materials.
Composition
Mattress outer fabric: POLYESTER: 100 %
Mattress layers: Stretch fabric, ViscoFoam, athermic fibre, polyether, Normablock core, polyether, athermic fibre, Viscofoam, Stretch fabric
Folding box spring cover: 5 cm high, two solid wood handles and a side ring that holds the mattress.
Folding box spring: curved corners made of solid wood to avoid knocks.
If you choose 180x200 size, you are buying two folding storage beds which 90 cm width and the VR09914 union piece
We found other products you might like!
From €757.81 Regular Price €1,693.95 Taxes included

From €880.92 Regular Price €1,955.00 Taxes included

From €886.49 Regular Price €1,294.99 Taxes included

From €747.14 Regular Price €1,671.80 Taxes included