Youth pack: mattress + bed base + pillow
As low as €356.70 Regular Price €658.00
Continuous thread spring system that offers a high degree of firmness and adaptation for a full rest.
Healthy back position
We add a greater number of springs to the lumbar area to favour the recovery of the spine and back muscles.
Independent movement
We arrange the springs in rows to offer greater stability, offering independence in the movements of each sleeper.
Durability
The continuous thread springs offer greater durability of the useful life of the mattress by not integrating knots into the springs, together with a heat treatment applied to the entire core.
Less body pressure
We maximise the number of springs to improve stability with a better distribution of pressure.
Internal air circulation
They do not contain any internal barrier with the aim of favouring air circulation and maintaining the hygiene and durability of the materials.
Technology
Core technology: Continuous thread spring system that offers a high degree of firmness and adaptation for a full rest.

Padding tecnology: Viscofoam® is responsible for reducing pressure points and tensions in the neck, head and cervical spine. The athermic fibre provides stability and firmness, and also has moisture-insulating properties, which create a dry environment that inhibits the growth of agents that are harmful to health.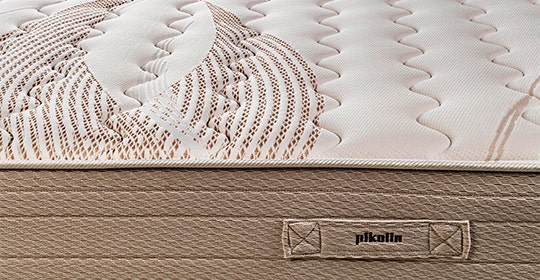 Functionalities
Due to the technology of this mattress, the little ones at home will be able to enjoy and rest during the night.

Thanks to the technology of the Normablock springs, this mattress provides firmness and stability to ensure that you do not notice your partner's movements when sleeping. It provides a stable and long-lasting rest thanks to the durability of its material.

Thanks to its viscoelastic foam composition, it provides greater comfort and softness. It receives a person depending on their pressure and thermal footprint. It also helps to reduce blood pressure and disperses the heat we generate when sleeping.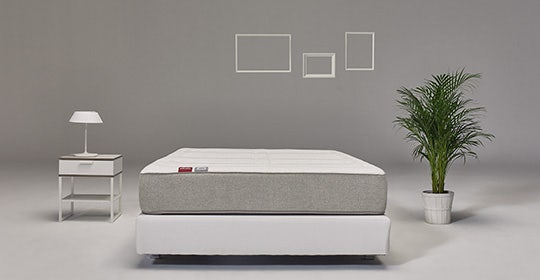 Composition
Mattress layers: Stretch Fabric, Viscofoam, Athermic Fibre, High-density Reinforced Polyether, Normablock Firm Core, High-density Reinforced Polyether, Athermic Fibre, Viscofoam, Stretch Fabric
Superior Adaptability: 16 wooden slats that absorb the pressure exerted
Maximum heat dispersion: the multitude of uniform spaces between the slats guarantees the optimum air circulation of the rest equipment
Set of 2 StonePik 26 cm high legs. (Ref. JP18040.000.260.00.)
Outer pillow cover: 100% ULTRAFRESH cotton
Inner protective pillow cover: 100% cotton
Pillow core: 100% polyester fibre.
Reviews
We found other products you might like!
Price: (10 more measures)

✔ Great stability
✔ Greater adaptability
✔ Extra air circulation
✔ Perfect rest for the youth


Price: (36 more measures)

✔ Normablock springs
✔ Medium firmness
✔ High comfort
✔ Great adaptability


Price: (15 more measures)

✔ Pocket coil springs
✔ Medium firmness
✔ High comfort
✔ Perfect adjustment


Price: (36 more measures)

✔ HR and viscoelastic foam
✔ Medium firmness
✔ High comfort
✔ The rest for younger people


Price: (33 more measures)

✔ Superior adaptability
✔ Customised rest
✔ Setup included
✔ Legs included


Price: (15 more measures)

✔ Perfect stability
✔ Restful night's sleep
✔ Setup included
✔ Legs included