Medium-high firmness pillow for people who sleep on their back - LATEX
Medium-high firmness latex pillow. Its multi-perforated core allows the passage of air inside, providing good breathability and air circulation. Fully hygienic rest thanks to the ULTRAFRESH antibacterial treatment.
Guarantee

Leader Brand

Firmness

High firmness

Latex
Who are Pikolin pillows good for?
The secret formula to finding the perfect pillow for every type of person is in knowing the characteristics of each pillow and the peculiarities of your sleep. In this way, you can discover the best pillow for you if you really know how you sleep.
Why buy this Pikolin pillow?
Pillows are decisive when it comes to providing us with a healthy rest. The key is in finding the pillow that best adapts to how you sleep, as depending on your sleeping position, there will be a certain pillow or two that is best for you.
However, your sleeping position does not always have to be the decisive factor in your choice. You can also choose your pillow according to its type of material or any of its specific characteristics. At Pikolin we also think about the type of person you are when designing each pillow, which is why we offer pillows designed especially for pregnant women and other pillows that have been designed for children.
You deserve to sleep well, and the most important thing is that you find a pillow that provides you with a peaceful and restful sleep so that you wake up the next day with enough energy to do everything you have in mind.
Technology
Látex 100%: This mattress has a core formed by a 100% latex block with 5 different comfort and rest zones that offer great support to each body.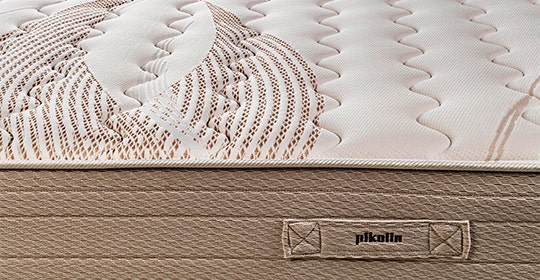 Composition
Exterior fabric: COTTON: 100%
Layers: Exterior cover: 100% cotton with ULTRAFRESH hygienic treatment Interior protective cover: 100% polyester microfibre Core: 100% latex multi-perforated open cell