Pack of two medium firmness visco pillows -
✔ Pack of two viscoelastic pillows
✔ It favours a fresh rest with medium firmness
✔ It is hypoallergenic and highly breathable
✔ They adapt to any position we're in when sleeping

Altura: +/-26 cm
Sizes and dimensions guide
Guide to heights and measurements
We explain how to correctly measure the height of our products and which accessories you should choose according to the size of your bed.



Pay in free
with credit card
×
x
| | |
| --- | --- |
| First payment : | |
| Following mensualities : | |
| | |
| --- | --- |
| Total : | |
| Credit cost included : | |
Or

This product is not shipped to Canary Islands. Express service (except Micuna's cots and Madison topper), does not include collection of used goods.
Pack of two medium firmness viscoelastic pillow that favours a fresh rest. Visco Medium is a hypoallergenic pillow thanks to its polyester microfibre covers and highly breathable 3D mesh on one side. The shorter side of this pillow measures approximately 35 cm.
Ergonomic technology. It adapts to the contour of your body, guaranteeing an optimal position of the head and neck.
High
The high firmness viscoelastic pillows adapt to the contour of your body, guaranteeing an optimal position of the head and neck. This type of pillow technology is perfect for sleeping on your side. This position favours the rest of your head, spine and legs. It also favours breathing.
Medium
The medium firmness viscoelastic pillows favour a fresh rest. They are usually the most optimal for those sleepers who do not have a single position during the night. It adapts to the morphology of the head and neck, adapting to each position. This ensures we have a customised and assured rest.
Low
The low firmness viscoelastic pillows are designed for those who sleep on their stomach. Especially for children. They adapt perfectly to the contour of the body, guaranteeing the optimal position of the head and neck. Because sleeping on your stomach is the least recommended position, at Pikolin we offer the best options for any type of position during rest.
Functionalities
Medium firmness viscoelastic hypoallergenic pillow.

This pillow provides a correct alignment of the spine in the cervical part. It adapts to any position that we have when sleeping.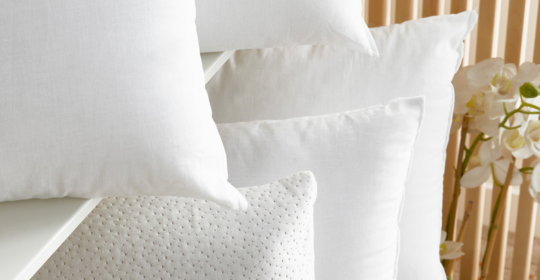 Composition
Pack of two Visco Medium pillows
Outer cover: Side A: 100% polyester microfibre, Side B: 100% polyester 3D mesh
Inner protective cover: 100% polyester microfibre
Core: 100% viscoelastic
We found other products you might like!