Pack containing a youth HR foam mattress and a natural-coloured youth folding storage base - APPLE+AP10599
✔ Youth mattress and storage base pack
✔ HR foam mattress with Viscofoam padding
✔ Natural-coloured folding storage base with side opening
✔ The perfect combination for a young person's bedroom

Altura: +/-54 cm
Sizes and dimensions guide
Guide to heights and measurements
We explain how to correctly measure the height of our products and which accessories you should choose according to the size of your bed.



Pay in free
with credit card
×
x
| | |
| --- | --- |
| First payment : | |
| Following mensualities : | |
| | |
| --- | --- |
| Total : | |
| Credit cost included : | |
Or

Enjoy our pack with a natural-coloured Naturbox youth folding storage base and the Apple youth mattress made of Confortcel cellular material with layers of Viscofoam padding and athermic fibre. The combination of these materials efficiently supports body weight and maintains its properties for rest throughout the entire useful life of the mattress. This youth mattress contains a viscoelastic layer of great adaptability that adjusts to the body's bow for better blood circulation, increasing sleep quality. The Apple youth mattress is perfect for the little ones at home. It is 22 cm high. The youth natural-coloured wooden folding storage base with side opening also offers extra storage. It is ideal for younger people and provides an additional degree of firmness to the mattress. This allows you to have a comfortable and pleasant rest. It is easy and simple to use daily. This youth folding storage base consists of a breathable lid that favours air circulation.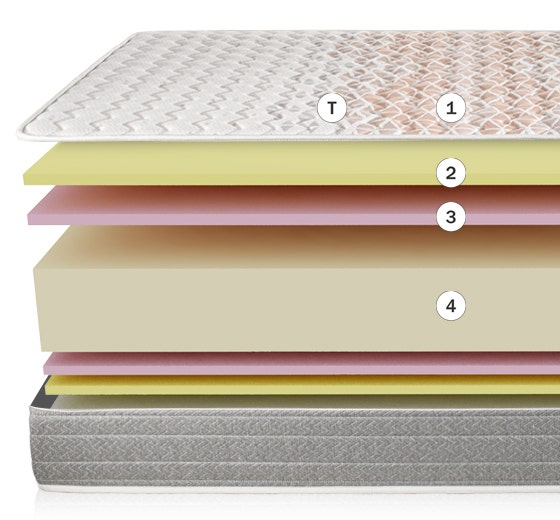 1. Stretch Fabric: has a great feel and weight that provides elasticity and breathability.
2. Viscofoam®: padding layer supports a person depending on their pressure and thermal footprint, adapting to their body shape. It also reduces blood pressure and disperses the heat we generate while sleeping.
3. Athermic Fibre: creates extra smooth comfort and lets air continuously pass through during rest for better breathability.
4. Confortcel® Core: high-resilience foam cellular material has a high level of adaptability and air circulation, which guarantees correct position for the back.
T. Triple Barrier®: Complete and continuous hygienic protection. This barrier protects the user against the main causes of allergies, including mites, bacteria, and fungi, throughout the useful life of the mattress.
This core is made of high resilience cellular material, HR foam, which efficiently holds body weight and maintains its rest properties throughout the entire useful life of the mattress.
High adaptability
Thanks to the foaming material of the Confortcel® core, it supports and respects the curvature of the body, favouring a deep rest.
Air circulation
The pores of the foam with which this core is manufactured provide a renewed and healthy rest environment thanks to the passage of air.
Back health
This Confortcel® foaming cellular material offers a firmness that adapts to your back, guaranteeing its correct position and favouring subsequent musculoskeletal recovery.
High durability
Thanks to the high resilience of the Confortcel® technology, it guarantees an optimal performance during the useful life of the mattress.
Technology
Core technology: This core is made of high resilience cellular material, HR foam, which efficiently holds body weight and maintains its rest properties throughout the entire useful life of the mattress.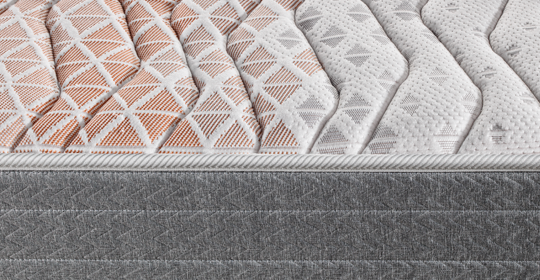 Functionalities
This mattress guarantees the stability you need when sleeping. It offers sleep independence so that you do not feel your partner's movements.

Thanks to its layer that combines athermic fibre with polyester fibre, it guarantees a high level of breathability.

This storage base has a breathable lid upholstered with 3D fabric that provides air circulation to your rest.

Enjoy an extra storage space without sacrificing the comfort and quality of your rest.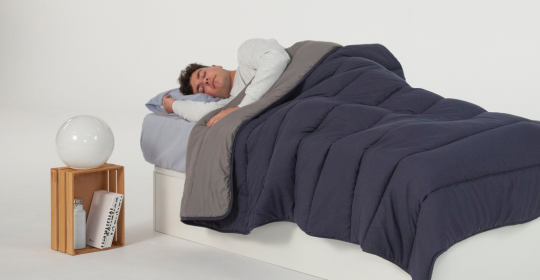 Composition
Outer fabric of the mattress: 100% polyester
Mattress layers: stretch fabric, Viscofoam®, athermic fibre, Adapt Tech®, athermic fibre, Viscofoam®, stretch fabric
Outer fabric of storage base: 100% polyester and 3D fabric for better breathability of the rest equipment
Useful height (basin): 27 cm
Height to the ground: 32 cm
Lid technology: 5 cm high breathable lid, solid wood handle with brand identification in the same colour as the lid, maximum durability breathable lid with B.A.S. (Base Air System) technology, a mattress guide to hold the mattress in place and an easy front opening system
Basin technology: on-trend 22 mm thick panels with fully laminated interior and exterior and solid wood corners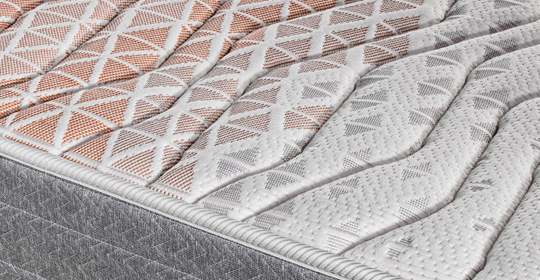 We found other products you might like!
From €825.49 Regular Price €1,233.99 Taxes included

From €314.77 Regular Price €663.00 Taxes included