The best mattress with medium firmness and great comfort - DualPIK MEDIUM
✔ Pocket coil spring mattress with Progression Fiber+ padding
✔ Medium firmness with a high level of comfort
✔ It offers 3 rest zones to provide stability
✔ Enjoy an excellent rest on this mattress
Altura: +/-32,50cm
Sizes and dimensions guide
Guide to heights and measurements
We explain how to correctly measure the height of our products and which accessories you should choose according to the size of your bed.



Pay in 3 or 4 or 6 or 10 or 12 free
with credit card
×
x
| | |
| --- | --- |
| First payment : | |
| Following mensualities : | |
| | |
| --- | --- |
| Total : | |
| Credit cost included : | |
Or

DualPIK MEDIUM is Pikolin's best medium firmness mattress. This mattress is the best option for those looking for a medium firmness mattress with a high level of comfort. DualPIK is much more than rest.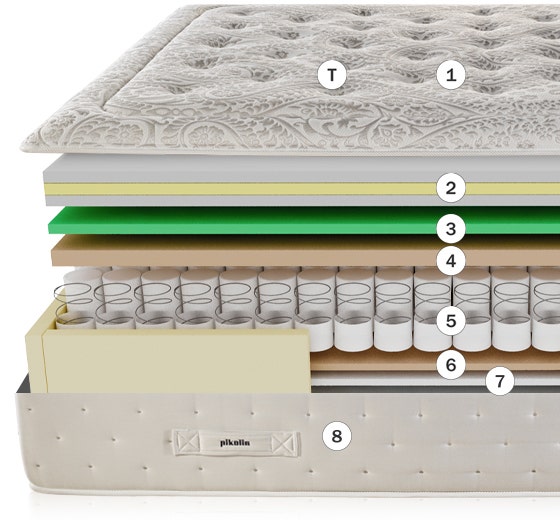 1. Stretch Fabric: provides extra comfort and a pleasant first contact with the sleeper's body.
2. Its high-end Progression Fiber + padding® is a combination of 3 layers:
- Two layers of super soft foam for a sweet and cosy sleep.
- A layer of polyether fibre that, thanks to its thermoregulatory properties, facilitates air circulation and a better quality rest.
3. INGRAVITY viscoelastic layer: accommodates the exact shape of the body, relieving muscle pressure and making the mattress really soft.
4. Double REST®: offers customizable support, with a choice of medium or firm support on each side of the mattress. It allows each of the sleepers to have the most adequate support for their back, based on their body shape, morphology, and sleeping preferences.
5. Adapt-Tech® Pocket Spring Core: forms a core that adapts point by point to the morphology of the sleeper.
6. Reinforced Polyether Shock Absorber: high density.
7. Technical Foaming Layer.
8. Viscose Fabric: external fabric of the mattress, which has a nice sheen and is soft to the touch.
T. Triple Barrier®: Hygienic treatment against mites, bacteria, and fungi.
Adapt-Tech: Pocket-coil innerspring unit, independent from each other and packed in resistant and durable fabric.
Adaptability
The shock absorber on these mattresses provides them with a perfect stability, whereas the Adapt Tech® pocket coil spring system ensures that the mattress adapts to your most comfortable position every night to obtain a fully restorative rest.
Stability
No transmission of movements from one part of the bed to the other. If you share a rest space, you will not have to worry about the other person's movements as this core of springs adapts point by point to each morphology.
Air circulation
The fabric into which the springs are packed allows air circulation and the passage of air in the core of this mattress.
Technology
Core technology: Pocket-coil innerspring unit, independent from each other and packed in resistant and durable fabric.

Padding technology: Progression Fiber+® offers a pleasant and soft contact when sleeping thanks to an exceptional reception, which, together with a thermoregulatory function, favours air circulation, breathability and a constant temperature. This technology is also perfect for those sleepers who are looking for a rest without difficulties in their movements.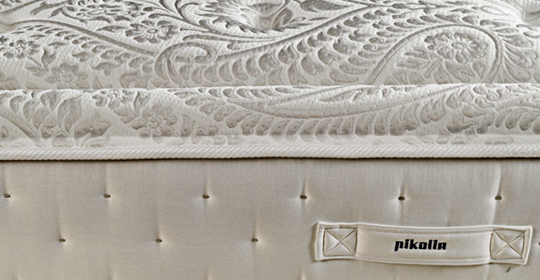 Functionalities
Thanks to the Adapt-Tech pocket spring technology, this mattress offers three different stable zones, so you won't feel any movement when you sleep.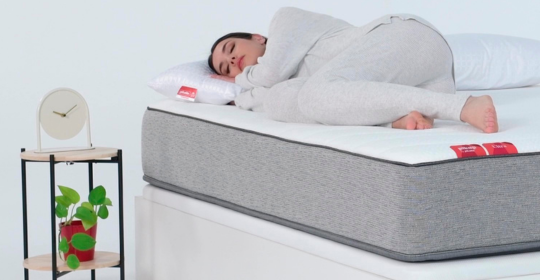 Composition
Outer fabric: 100% polyester
Layers: stretch fabric, super-soft, polyester fibre, super-soft, super-soft core, medium comfort polyurethane layer, Double REST with a core of Adapt Tech springs, firm polyurethane, polyurethane padding and non-contact fabric